Welcome to Smokin' Joe's R/C Airplane Page!
Model aviation is more than a hobby. It is a passion!




This Page will always be under construction. Check back often!


Support freedom of speech on the internet!



This page has been accessed
times since 2/17/96.
Get your own web counter here:


Love that smoke!
This is a photo of the Northern Lights taken at the 1995 N.Y. State International Airshow.
What type of models do I fly?
Anything with fixed wings. (sorry, no floppy wings (yet!!))

I've been out of the hobby for a couple of years and I am now in the process of getting back on the sticks. I found it isn't like riding a bike! Even though I still have the basics I found myself to be way behind the actions of the aircraft. This is a sport that takes practice. If you are new to R/C flying don't get discouraged, with each flight you will improve. Just keep at it.
Currently flying:
Great Planes Cap 232
I am putting a Webra .60 on the nose of this plane. I'm hoping to keep the weight down as this plane is very prone to snapping out of a loop especially if too much elevator is applied.
Bud Nosen Bipe
This plane flies nearly scale with a G-23 on the nose! It was passed around our club for years until a few years ago when it landed in my hangar.
Florio Flyer Coal Hauler
I just can't seem to get it right with this thing. It seems like every time I take it to the field there is a problem with it. Right now it is in need of repair from a crash because I lost aileron control.
Hobby Lobby Telemaster
This is a kit my dad had around for several years. He gave it to me to build for my daughter Sierra. She is ten and this is her first year at the sticks.
Current Projects:
Midwest Extra 300S
This is a 27% scale model. (80" wingspan) I 've finally decided on an engine for this bird. I have a Zenoah G-45 in the box just waiting to pull this bird around. Hopefully this engine will allow me to do a tail slide and pull back out vertically. I purchased servos now so it won't be long now. It will have a smoke system installed, (of couse). :-)
Balsa USA Phaton .40
I flew the Phaton three years ago with a worn out Royal .45 on it and decided it needed more power. Snap rolls were less than spectacular. I'm reworking it to accept a Webra .60.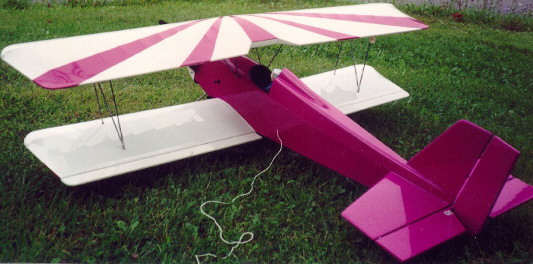 THE PHATON

Future Projects:


I acquired a twin engine model partially built. I'm not even sure what this thing is but it looks like it would be a blast to fly!

If you couldn't guess by the types of models I fly, I love aerobatics. I've been flying models for more than nine years now. I live in Canton, PA. A small town out in the sticks! The nearby landing strip from which I was flying has not worked out for me. I'm still trying to find a good site close-by. In the meantime it looks like I'll be flying at the Club field in Horseheads, NY.
If you are interested in getting involved in this fine hobby and have questions please mail me. I'd be glad to help you in any way I can.


Jay Dee's Page Check out Jay Dee's Skis!


Joe Bob's Page Cool Page!


RC Flyer's Home Page Great page with lots of links!


General Aviation - Home Page


R/C Modeler magazine. Good page with a newsgroup-like section where you can leave comments or questions.


Fibreglast - This company can provide you with any supplies you may need for any fibreglass project.

MEMBER
of the POD